ARTICLE
Entrees, side dishes and potluck buffets: the current state of microcredentials in Australia

We are witnessing tertiary education unbundling. Technology disentangles programs, courses, content and service providers. This purifies supply and demand to create new value propositions and markets. Microcredentialing is one such new value proposition. We'll first look at what microcredentialing is, what drives it, and what current market offers are. Then, we'll look at how microcredentials are formalized. Finally, we'll summarize implications for higher education providers.
Microcredential drivers
Over the next 20 years, a billion digital-natives will access tertiary education services. How they access and engage tertiary education services, however, looks very different from the previous generations. Digital-first companies like Alkhemy, Zoom, PayPal and Credly have taken and re-imagined sales channels, learning interactions, fee payment and credit recognition.
Microcredentialing is one way digital is changing tertiary and post-tertiary education. Microcredentials are like mini-degrees or certifications in a specific topic area. They can either be broad, such as 'Machine Learning,' or specific, like 'Using Predictive Analytics to Differentiate Instruction for ESL Students.' To earn a microcredential, students complete a certain number of activities, assessments, or projects related to the topic.
Microcredentialing started with Massive Open Online Courses (MOOCs) in 2012. However, an increasing number of physical institutions have also begun offering smaller learning modules, or pathways to recognise skills accrued in the workplace.
Microcredentialing's development has accelerated due to the interplay between a number of different factors, including:
Work's distinct shift from jobs to gigs
Technology disentangling programs, courses, content and service providers
Disruptive change creating skills gaps across the workforce
Decreased trust in higher education providers to deliver job-ready graduates
Increasing cost of tertiary education Microcredential varieties
Microcredential varieties
There's research (Pickard 2018) which shows around 450 microcredentials which can be accessed via MOOCs. We've replicated some of this research below.
[Table 1: Current Microcredentials on the Market]

[Table 2: Current Microcredential Cost and Duration]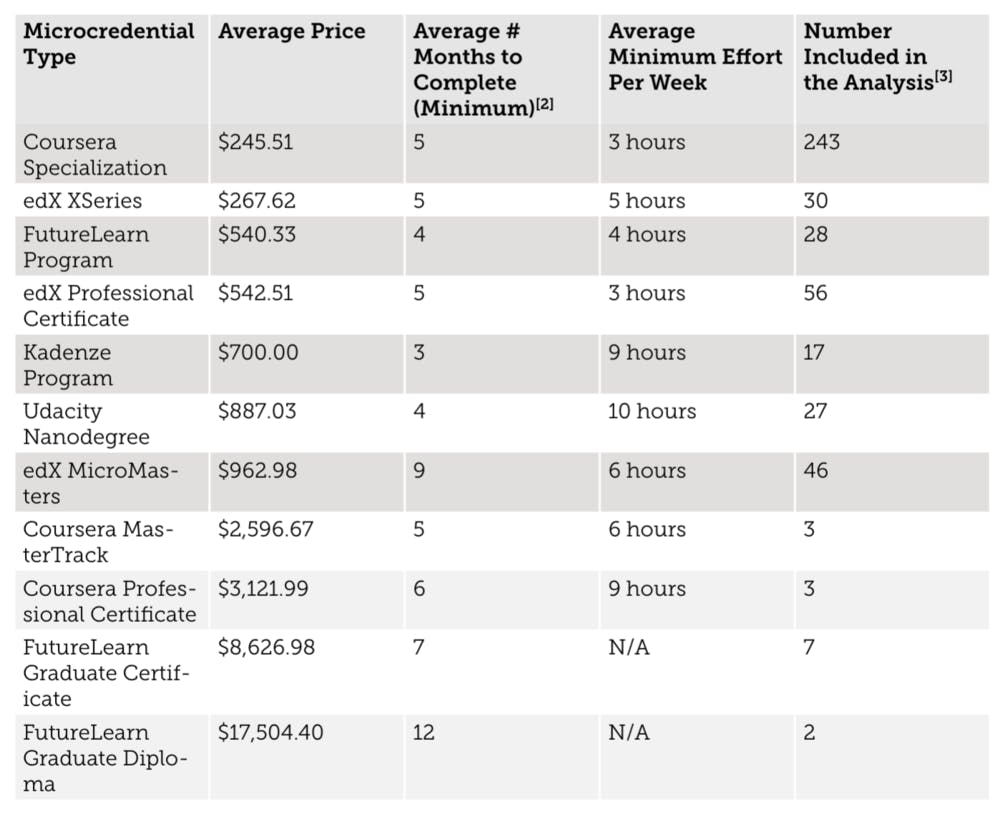 Higher education providers also offer a variety of microcredentials. Providers partner with MOOCs or design 'stackable' mini-courses or courses-within-courses to purify demand for specific skills, provide alternative entry pathways, and provide flexibility to existing offers. Currently, higher education providers offer three main types of microcredential - 'an entrée", "a side dish", and "a potluck buffet".
The entrée microcredential
Some tertiary education providers have tested the water with microcredentials. These entrée microcredentials act as an introduction to a full program of study, an alternate entry pathway, or a way to break down coursework-intensive subjects into manageable chunks.
Some providers 'stack' MOOCs onto fully-fledged, campus-based degrees. For instance, Curtin University offers a Masters' Degree in Marketing for AUD$31 000. Five microcredentials (accounting for 25% of total credit points) can be taken as a pathway into the degree.
Deakin University also offers MOOC-based qualifications and microcredentials in partnership with Future Learn. Some MOOCs offered provide credit towards a postgraduate degree.
Deakin's also uses 'stackable' mini-courses to strengthen, rather than replace its MBA offer. It offers 12-hour 'Masterclasses' which students can 'stack' to gain equivalent elective credits in the 12-unit MBA. Study through 'Masterclasses' has a cost advantage compared to taking elective courses. AUD$7200 compared to AUD$8450 for two elective subjects Outside of cost, the greatest benefit is Deakin can bring 'Masterclasses' with new content to market faster than conventional subjects. Seven 'Masterclasses' will be available this year, with more in the pipeline.
Other providers use mini-courses to break down large, intense disciplines. The Australian Defence Force Academy's post-graduate engineering qualification at UNSW Canberra allows microcredentials to contribute to a postgraduate study credit. Certain six credit postgraduate courses are associated with two three credit mini-courses. These mini-courses are taken in a specific order in order to qualify for six postgraduate course credits. Students progress from a theory-based mini-course to a project-based mini-course.
The side-dish microcredential
Some microcredentials act as a complement to existing or previous courses of study. RMIT 'Creds' are offered to 96,000 RMIT students to develop a portfolio of competencies that can be shared with potential employers and displayed on LinkedIn. RMIT offers around 90 'Creds' focused on 21 competencies, each mapped out to RMIT graduate attributes. Depending on the 'Cred', commitment ranges from one to 100 hours. Required coursework can be completed online, through blended learning or face-to-face.
Some of these credentials are co-badged with industry. For instance, if students do a credential involving Apple's programming language Swift, it will be linked to Apple. Likewise, a credential involving blockchain will be linked to Credly.
Industry's involvement in microcredentialing extends beyond co-badging or accreditation. It's understood that Microsoft Australia has partnered with the University of Adelaide and the Defence Teaming Centre to pilot a cyber-awareness microcredential. The microcredential will be delivered as a benchmark requirement for those who want to work in the local cyber-defence industry, and it is designed to increase cyber security literacy across the wider defence industry workforce.
The side-dish microcredential extends to recognising and formalising experience and skills accrued in the workforce. As of 2018, Deakin University offers 19 Professional Practice Credentials across three categories (employability, leadership and technical knowledge) at three levels of competency (intermediate, proficient and advanced). Professional Practice Credentials are intended as a common currency that demonstrates a person's current professional capabilities to current and prospective employers. Deakin assess applicant-submitted evidence to award the Professional Practice Credential. These certifications don't represent degrees, but Deakin asserts certification criteria aligns with international qualifications and industry skill frameworks.
In addition, Deakin has also expanded into industry-validated skill certification products. It has partnered with the Australian Marketing Institute to certifications similar to Professional Practice Credentials across five fields: data, digital, content, creative and customer experience.
The potluck buffet microcredential
An additional group of microcredentials is allowing choose-you-own-adventure postgraduate credits at a fraction of the most.
Four Australian universities – The University of Queensland, The University of Adelaide, Curtin University and the Australian National University – have joined with US MOOC provider edX to offer "MicroMasters" qualifications. MicroMasters comprise of a number of MOOC courses. Upon completion of a specified number of MOOCs, which can be completed according to students' interest, current professional orientation or desired career change, students earn a MicroMasters. This MicroMasters is often given equivalent credit to a quarter of a master's degree at participating institutions. As at Feb 2019, the University of Adelaide has 6 MicroMasters courses, Curtin University offers 17 MicroMasters courses, The University of Queensland has 23 MicroMasters courses. The Australian National University offers 10 MicroMasters courses.
Formalising microcredentialsThe New Zealand Qualifications Authority (NZQA) is the first accreditation agency to recognise microcredentials. Depending on the credential's rigour, it can contribute anywhere between one-hundredth to one-tenth of a full-time, three-year New Zealand tertiary qualification. NZQA expects "microcredentials will augment the formal qualification system, but also anticipates that over time employers and learners may well become increasingly comfortable valuing shorter modules of learning.
"If Australia's Tertiary Education Quality and Standards Authority adopts similar practice, a microcredential could be equivalent to between 2.4 to 19 weeks full-time study or 1.1 to 9.5 weeks part-time study.
Outside formality and recognition, the Committee for Development of Australia (CEDA) has pushed for more Government funding into career-long learning. CEDA's Connecting People with Progress: Securing Future Economic Development make the case for government and business investment in workforce training, and education providers to adapt offerings so as "to evolve new, shorter and more modular forms of learning and reskilling (including micro credentials), mandate internships, and continue to invest in online platforms.
It's argued that degree-granting, accredited higher education providers have an advantage in offering microcredentials. These institutions can draw on their quality and standing, while adopting to new, modes of delivery and learning. We think that universities are particularly well-placed to create new markets and value through microcredentials and shorter learning modes, if they can answer the below four questions:
Question 1: How are your institutions' offline advantages reflected in its current digital ecosystem and orientation?
Question 2: What unmet demand or constrained supply exists in higher education, training and development that could be tapped through digital marketplaces, delivery or learning?
Question 3: To what extend can this unmet demand or constrained supply be served by microcredentials?
Question 4: How does your institution need to partner with industry and digital providers to meet unmet demand?

ABOUT THE AUTHORS(S)
Dr David Bowser is Founder & CEO of Curio. David has over 20 years experience in education, R&D and financial services both as an academic and leading strategy consultant. Michael Norris is a Senior Consultant in our Shanghai office. Michael has experience in education strategy and transformation as a well-respected management consultant.

Curio is an education consulting, learning design and platform development business established in 2016 by Dr David Bowser, a neuroscientist and business advisor with the aim of bringing together the creative and curious for human improvement driven through the power of education.
Key people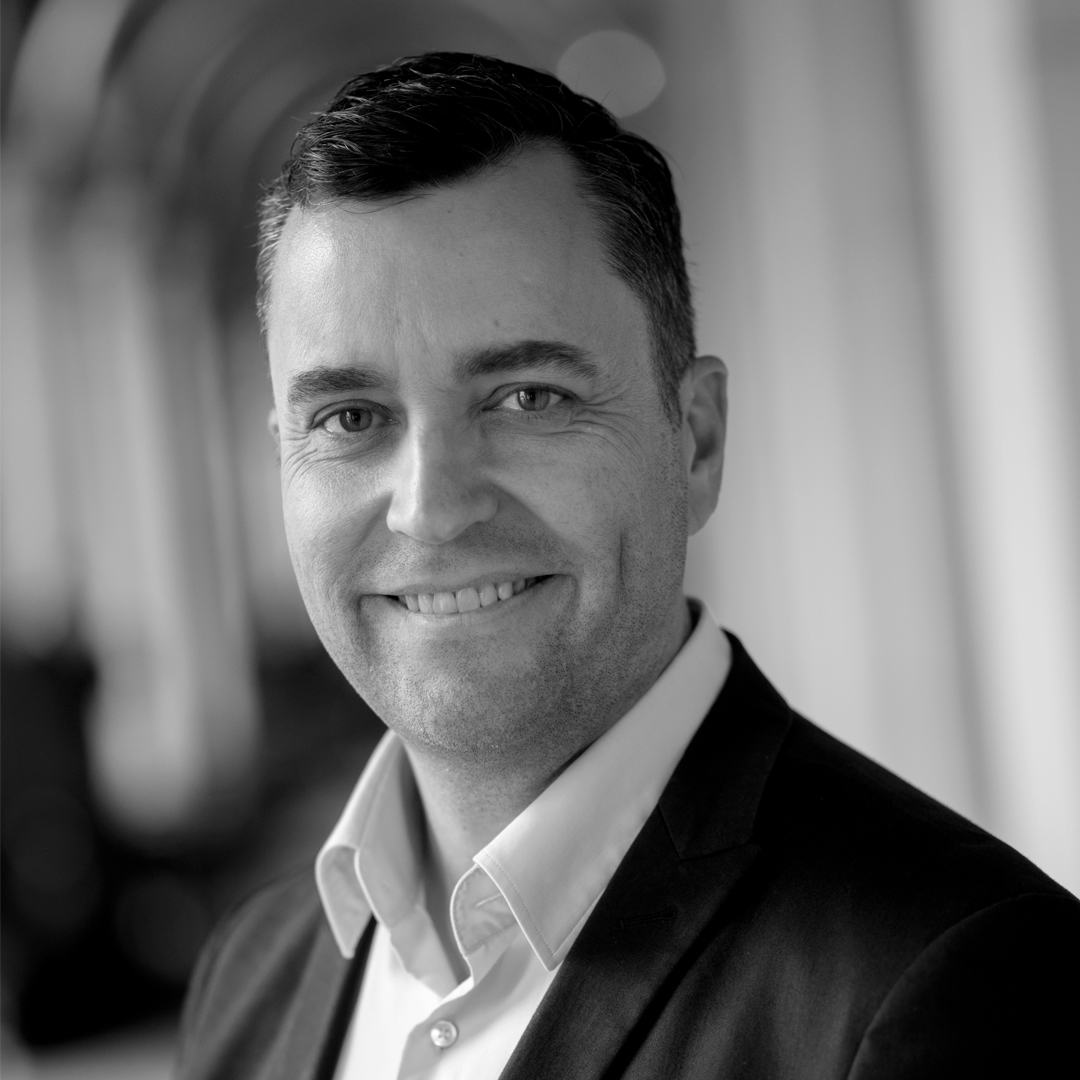 David Bowser
CEO and founder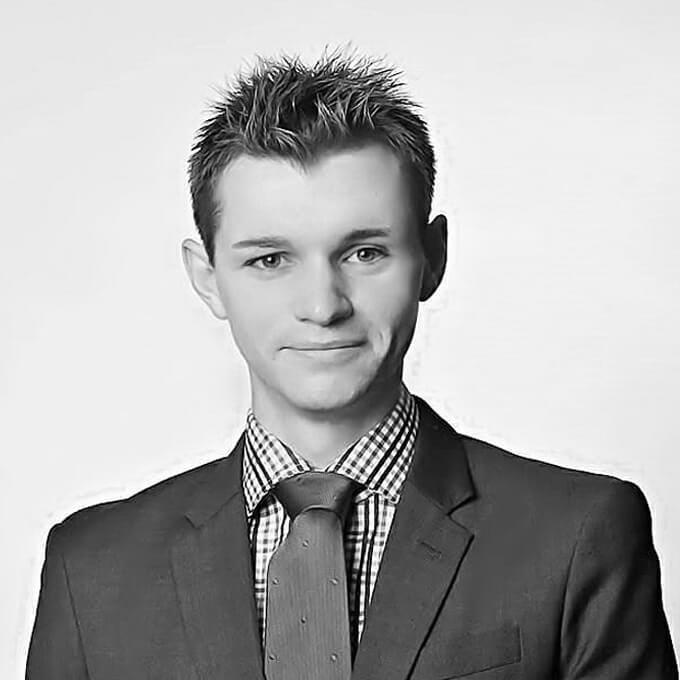 Michael Norris
Senior consultant
Latest news